Nigeria 2023 Presidential Election kicks off today 25th February 2023 at 8:30 AM. Live updates of results and situation reports for the ongoing election can be accessed below.
GoldenNewsNg reports that today, Saturday, 25 February 2023, Nigerians would vote in the seventh Nigeria presidential election and National Assembly elections since the country's return to democracy in 1999.
This online news platform understands that Nigerians are expected to vote from a list of eighteen (18) Presidential candidates and four thousand, two hundred and twenty-three (4,223) National Assembly candidates, who are contesting for four hundred and sixty-nine (469) federal legislative positions.
No fewer than eighteen (18) political parties are participating in the 2023 general elections, however, some would not be fielding candidates for the position of president. This is less than the 91 political parties that participated in the 2019 general elections.
According to the figures recently released by the Independent National Electoral Commission (INEC), there are currently 93,469,008 Registered Voters but 87,209,007 voters out of the 93,469,008 registered voters have collected their Permanent Voters Cards (PVCs) and would be expected to vote in the 2023 general elections compared to  84,004,084 in the 2019 general elections.
The main contenders in terms of political parties are the All Progressives Congress, APC, the Peoples Democratic Party, PDP, the Labour Party, LP, and of course, the New Nigerian Peoples Party, NNPP.
Bola Ahmed Tinubu is the presidential candidate of the ruling APC, Alhaji Atiku Abubakar is flying the flag of the PDP, former Anambra State Governor, Peter Obi is the candidate of the LP, while Rabiu Kwankwaso is the NNPP standard bearer.
Other presidential candidates, according to INEC's final list, include Imumolen Christopher – Accord Party (AP); Al-Mustapha Hamza – Action Alliance (AA); Sowore Omoyele – African Action Congress (AAC); Kachikwu Dumebi – African Democratic Congress (ADC); Sani Yabagi Yusuf – Action Democratic Party (ADP); Umeadi Peter Nnanna – All Progressives Grand Alliance (APGA); Ojei Princess Chichi – Allied People's Movement (APM); Nnamdi Charles Osita – Action Peoples Party (APP); Adenuga Sunday Oluwafemi – Boot Party (BP); Osakwe Felix Johnson – National Rescue Movement (NRM).
Others are Abiola Latifu Kolawole – Peoples Redemption Party (PRP); Adebayo Adewole Ebenezer – Social Democratic Party (SDP); Ado-Ibrahim Abdumalik – Young Progressives Party (YPP); and Nwanyanwu Daniel Daberechukwu – Zenith Labour Party (ZLP).
Quick Facts about Nigeria 2023 Presidential Election
✓ 18 Political Parties
✓ 93,469,008 Registered Voters
✓ 1,491 Electoral Constituencies
✓ 774 Local Government Areas
✓ 8,809 Registration Areas/Wards
✓ 176,846 Polling Units
✓ 15,331 Contestants.
In the build-up to the elections, GoldenNewsNg reports that Bola Tinubu of the ruling All Progressives Congress (APC) and Atiku Abubakar of the Peoples Democratic Party (PDP), Nigeria's main opposition party, Peter Obi of the Labour Party (LP) and Rabiu Kwankwaso of the New Nigerian Peoples Party (NNPP), have popped up clearly as top contenders for the office of the president.
Please refresh this page always for the live update.
---
Stick with Newsone Nigeria as we bring you the latest updates from the 2023 elections held across Nigeria, West Africa…
8:045 AM: Labour Party Presidential Candidate Peter Obi addresses the press in Agulu, Anambra State, southeast Nigeria ahead of the 2023 elections.
9:07 AM: PDP Presidential Candidate Atiku Abubakar registers (accreditation) in Yola, Adamawa State, northern Nigeria, to vote in the 2023 elections.
9:12 AM: PDP Presidential Candidate Atiku Abubakar casts his vote alongside his wife, Titi Abubakar in Yola, Adamawa State, northern Nigeria. "I would love to see improvement", Atiku addresses the press at 9:14 AM after voting.
9:15 AM: Ondo State Ondo North Senatorial District Akoko South-West LGA Ward 07 PU 008 Accreditation and voting are in progress. Priority voting is given to elderly people.
9:20 AM: South West Region Osun State Osun Central Senatorial District Osogbo LGA Ward 10 PU 05 Voting in progress.
9:30 AM: South East Region Anambra State Anambra North Senatorial District Onitsha North LGA PU: 015 Ward: 10 No INEC ad-hoc staff and security personnel are present.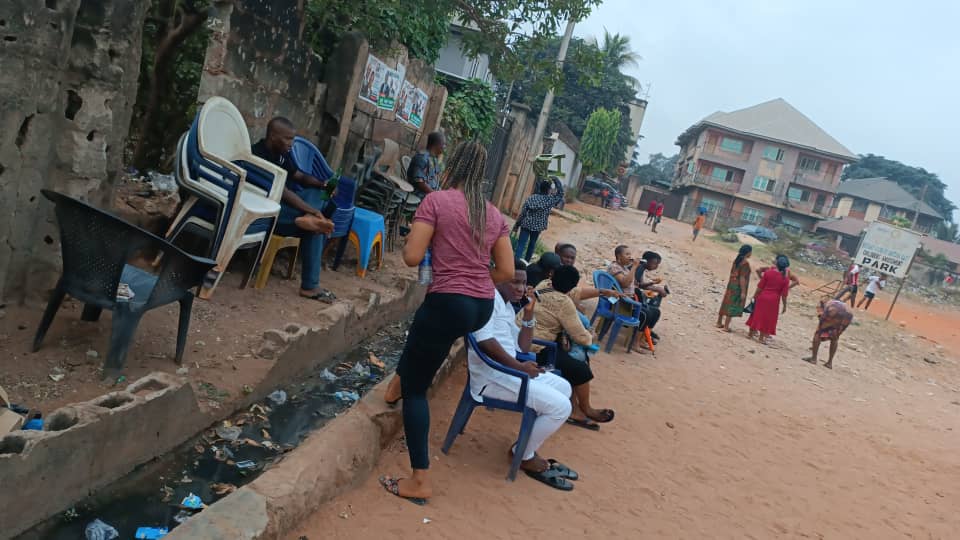 9:40 AM: State: Taraba LGA: Ibi Zone: Southern Senatorial District Ward: Nwonyo 1. Pulling Unit: Kofan Sarki. Report: vote started equally persons with Disabilities were put forward to vote first.